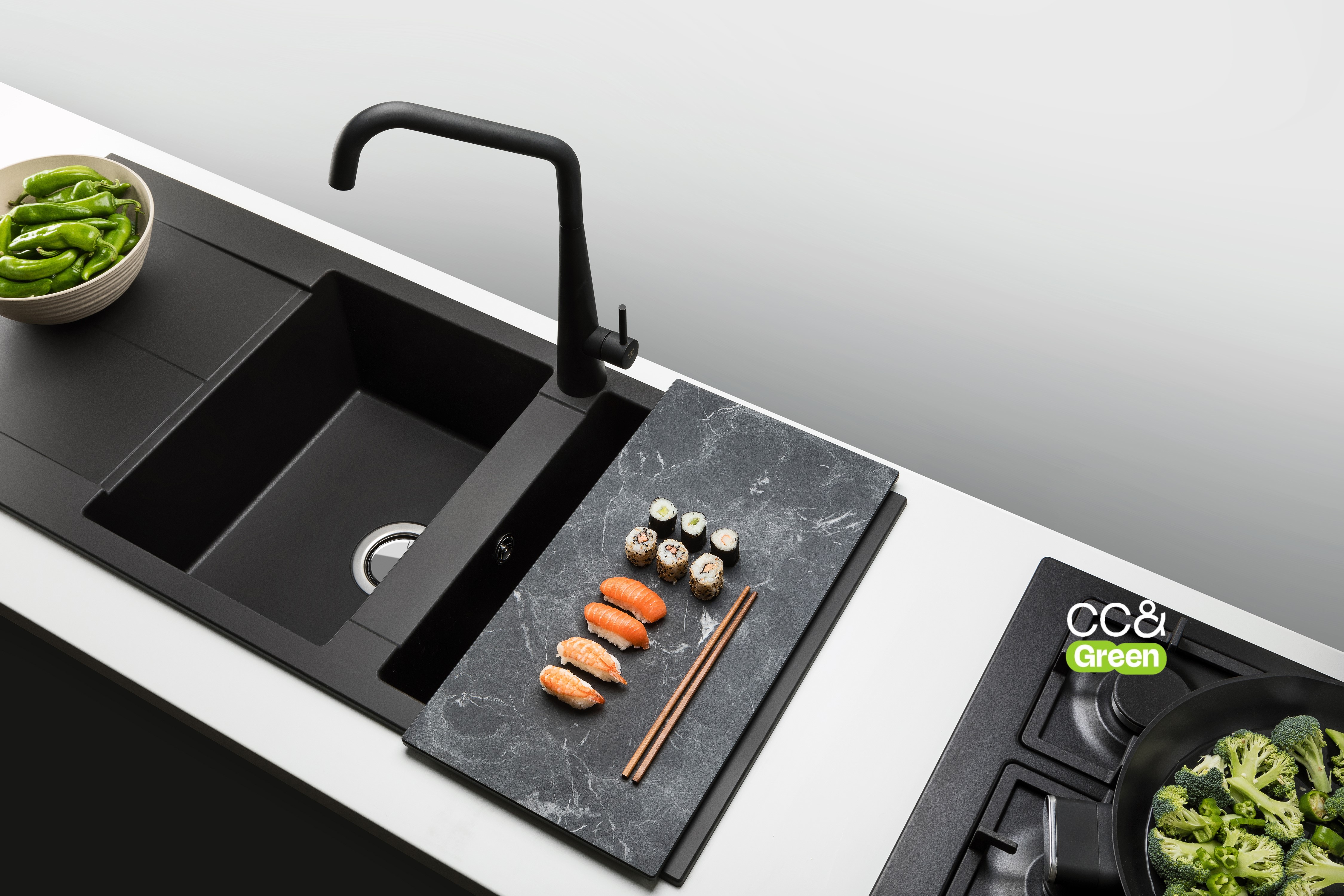 The products in the CC & Green collection pay special attention to ecological values and sustainable development. More recycled materials have been used in the products. Water-based paints and wood materials are sourced from responsibly grown forests. There are fewer formaldehyde emissions in the products in the collection.
Plados composite sinks - clean the air in the kitchen
Plados composite sinks feature a new type of patented material technology. The titanium dioxide nanoparticles in the innovative sink material activate a process that mimics the natural photosynthesis of trees. The process converts e.g. organic and inorganic contaminants on the surface of the sink into harmless mineral salts.
The active substance Ariapura works in three ways. It is indoor air purifying, antibacterial and self-cleaning
SACA seeks and develops new solutions to improve the quality of life
Europe's largest manufacturer of high-quality painted doors, the Italian SACA, is the first company to receive the Nordic Swan Label. The company has developed an innovative way to coat its products, using water-based, environmentally friendly paint for priming and finishing.
This results in a really low VOC emission level for the coatings
DEKKER, towards a cleaner future
Sustainable development is a development that meets the needs of the present without compromising future generations.
By combining advanced design and intelligent manufacturing processes, DEKKER has been able to produce torsional, environmentally friendly, lightweight and robust worktops for a wide range of applications.
GREENGRIDZ WORKTOPS
Environmental friendly
100% recyclable
Worktops Carb2 and FSC certified
PET worktops
New high quality material
100% recyclable material
As hard and durable as stone
Lightweight material / easy to install
ILCAM, a pioneer in recycling
Over the past year, ILCAM (the world's largest manufacturer of high-quality furniture doors) has worked especially on building partnerships and collaborations with suppliers who have been able to supply our industry's key raw materials, which are based on recycled materials and are by definition recyclable.
As example:
Chipboard
MDF board
PET foil
ABS-PP edge-banding