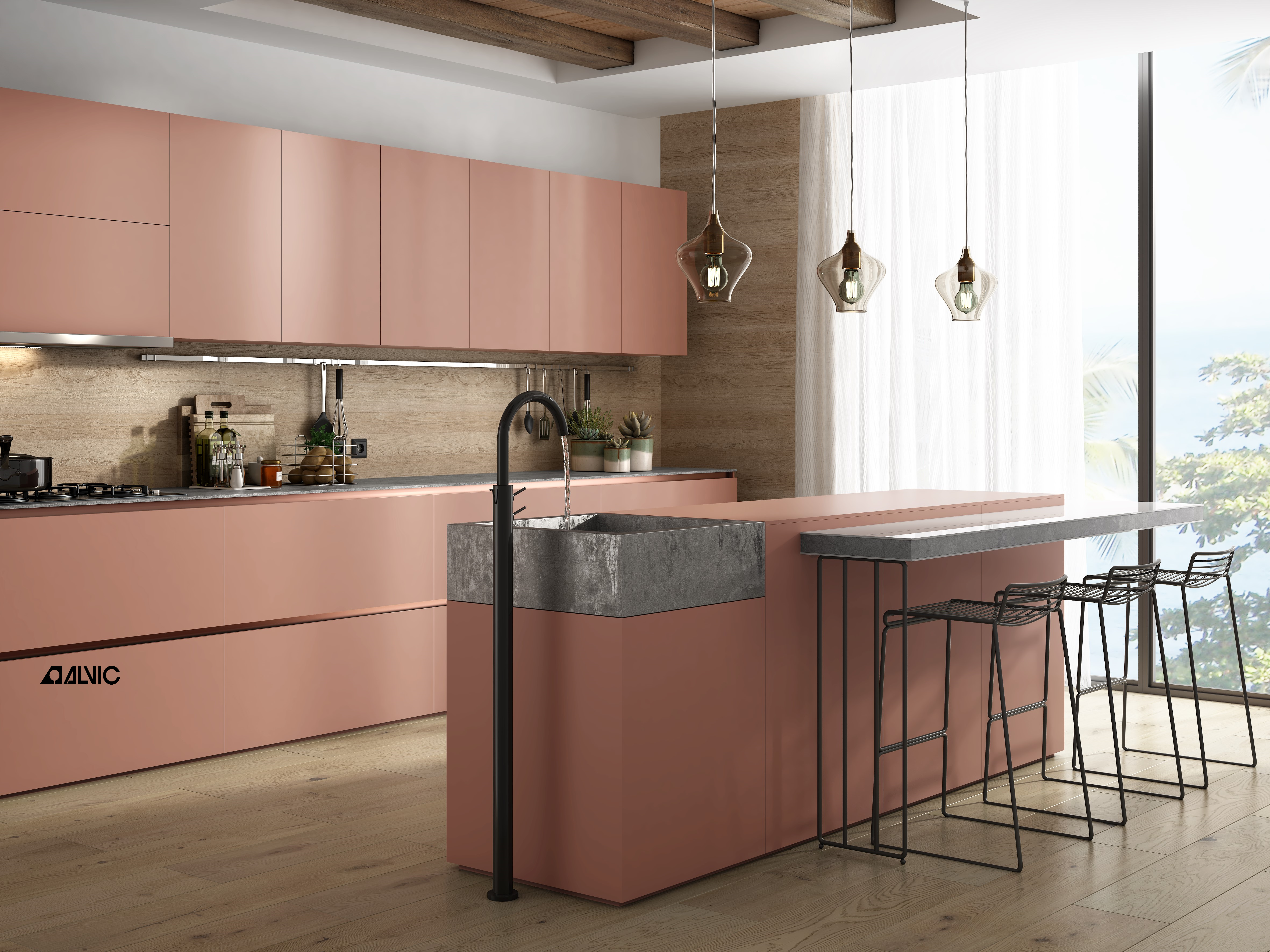 Since 1954, Italian creativity and a sense of style representing Arpa Industriale has designed and manufactured high quality interior laminates for different environments and uses. In addition to being a leader in environmental issues, Arpa is known for its reliability, quality and service.
Arpa Industriale's FENIX® brand is one step ahead of its competitors in the use of innovative materials in interior design. These surface materials, made with innovative intelligent technologies, are suitable for both horizontal and vertical surfaces in bathrooms, kitchens and furniture.
Alvic manufactures and distributes components and furniture for the interior decoration industry. They also manufacture and market kitchen, bathroom, and office furniture as well as solutions. Alvic has been operating since 1965. In their raw materials, Alvic invest in the development work on environmental friendliness as well as recycled materials.
FBS Profilati srl is a dynamic company whose essence is the design and production of high-quality decorative profiles and aluminium tambour doors.
Their tools and machines are carefully and minutely designed and realized exclusively in house. All accessories and components are strictly made by them in Milan Italy.

Plados Telma Group is one of the world's leading manufacturers of composite kitchen sinks. Their sinks are today exported to about 45 countries and 5 continents. They have taps, hobs, ovens and hoods in many colours to match the sinks and complete the range of products offered, allowing perfect and inimitable coordinates.

For more than 25 years, they have had a clear mission:
challenge the complex market of kitchen sinks, with solutions driven by design, functionality and highly innovative materials.
CATA (Cata Electrodomésticos S.L) was founded in 1947 in Torello (Barcelona) and has more than seventy years of solid experience as a manufacturer of household appliances, cooker hoods and heating appliances.
CATA is currently one of the four largest home appliance manufacturers in Europe. Strong investment in product development and several factories in Spain and China enable the best possible price-performance ratio, which brings quality to kitchens to a new level in cooking.
L&S designs and produces bespoke, highly innovative, technical lighting. Established in 1977, the company is now an international group with four production sites and sales offices in Italy, Germany, China and the United States. This corporate structure allows L&S to more rapidly and effectively respond to worldwide customer requests with the necessary advice, logistics and regulatory support.

•Indoor lighting solutions
•Integrated systems
•Control systems
•Lighting design
Atim S.p.A. was born in 1996 from Stefano del Prete's idea to create a solid company able to supply and support the furniture industry, a company based on all the quality and reliability of a production Made in Italy. Expertise, technology and creativity are the winning features that have allowed the company to establish itself as a key partner of the main players of the furniture industry, in Italy and abroad. The goal is to shape the future of furniture design and increase the usability of spaces in offices and domestic environments around the world. They develop and produce 100% aluminum furnishing solutions, patented, with high technological performances and aesthetic elegance.
Vanità & Casa was founded in 2011. They work with passion to maintain the recognition of a company specialized in the production of the most avant-garde lighting technology for illuminated mirrors and mirror cabinets in Italy and throughout the world. Their growth has been constant, guided by a deep knowledge of the market in which they operate and sustained by the ability to interpret its needs and anticipate its technological and aesthetic evolution. Quality in design, production, distribution, in the selection of partners, collaborators, suppliers.